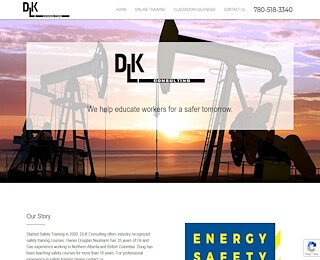 Grand Prairie has oil. The tar sands are not far from our small city. This led to a booming population but also a drastic increase in the number of workplace incidents. Three in one hundred Albertans were injured on the job in 2017. DLK Consulting offers safety training to keep your employees on their feet and safe in our strong petroleum and natural gas industries through training on WHMIS in Grand Prairie.
How many people are injured in Alberta?
With an abundance of oil and natural gas, Alberta is a resource mecca. No other places in North America experienced the level of resource extraction growth as our province except for Texas in the United States.
The growth of the oil industry attracted a wealth of untrained and inexperienced employees to the region. As such workplace injuries vastly increased. Nearly 29 workers were injured every day in 2017 with 48,834 workplace claims filed. Overexertion, falls, and a reaction to chemicals were among the most common complaints.
What is the cost of an injured employee?
These claims reflect an underlying loss of revenue. Injured workers are not productive. Replacing severely injured workers takes time. In an industry that needs to take advantage of price fluctuations, these situations are not desirable.
Injury across Canada is costly. In 2010, businesses lost $26.8 billion. The loss to American companies in 2017 was $55.4 billion USD. If required, an employer may foot part of this cost. You suffer from both a lost employee and the impact of paying medical bills in certain situations.
Can training improve productivity?
Training increases the overall productivity of an employee. Training on WHMIS in Grand Prairie helps employees identify situations based on the classifications of materials and hazards.
The Workplace Hazardous Materials Information System conforms to global standards. We train on this information to ensure that employees remain active in periods of peak production.
Periods of heightened production are particularly problematic. Long work hours, increased stress, lack of sleep, and the prospect of not returning home for an abnormal period creates a potentially dangerous environment. We seek to make recognition of hazards second nature.
Training on WHMIS in Grand Prairie
DLK consulting is an experienced firm capable of promoting workplace safety. We combine online and classroom components to reinforce information for any learning style.
Retention rates in a multi-pronged environment increase dramatically. Merely hearing or reading information leads to a recall rate of less than fifty percent. This improves to over sixty percent when combining learning methods.
We have 18 years of experience in safety and training. We strive to provide our understanding of teaching and safety to our clients and their employees.
Workplace safety is not an option. In the high-stress and dangerous world of oil and natural gas, training is a necessity. Losing an employee to injury costs real revenue.
Our experts help avoid slips, falls, and dangerous chemicals such as hydrogen disulfide also known as H2S. Get in touch with our experts today to schedule training through our company.
We welcome your comments!